A rare G4, "severe" geomagnetic storm, is underway. It has the potential to disrupt radio transmission signals, cause problems with the electrical grid and have a range of other possibly costly impacts.
The event, which is just one notch below the highest category of solar storm, began at about 10 a.m. ET on Tuesday, according to the NOAA's Space Weather Prediction Center. The geomagnetic storm is the result of a pair of coronal mass ejections, or CMEs, that left the Sun on March 15 and are now interacting with Earth's atmosphere and geomagnetic field.
Coronal mass ejections, which are essentially magnetic clouds ejected at high velocity from the sun, can affect the electricity grid, radio transmissions and GPS signals, among other things, when they interact with the planet's magnetic field.
The G4 solar storm is expected to lead to a widespread viewing of the Northern Lights on Tuesday night from Alaska across Canada and much of Eurasia.
The Space Weather Prediction Center issued a G1, or minor, geomagnetic storm watch for Wednesday in response to the two recent coronal mass ejections, with the first effects to be felt on Tuesday. It's unclear if the G4 event is associated with the same CMEs that triggered this watch.
Severe solar storms such as this one have the potential to cause "possible widespread voltage control problems" in the electrical grid. It could also disrupt tracking of spacecraft, and impede the efficacy of high-frequency radio signals, such as those used by flights that travel across the Arctic between North America and Asia.
These storms can also degrade the accuracy of satellite navigation, bringing the Aurora Borealis — better known as the Northern Lights — as far south as Alabama.
According to the Space Weather Prediction Center, these storms tend to occur about 100 times per every 11-year solar cycle, or about 60 days per each 11-year cycle. According to spaceweather.com, the ongoing event is the strongest solar storm in the current solar cycle.This event is nowhere near the strength that would be required to create a nightmare scenario that space weather specialists have been warning about for years. In that scenario, a powerful geomagnetic storm, a G5 on the five-point scale, shuts down the electrical grid, wreaks havoc on radio communications, GPS devices and aerial navigation systems, costing billions in damage.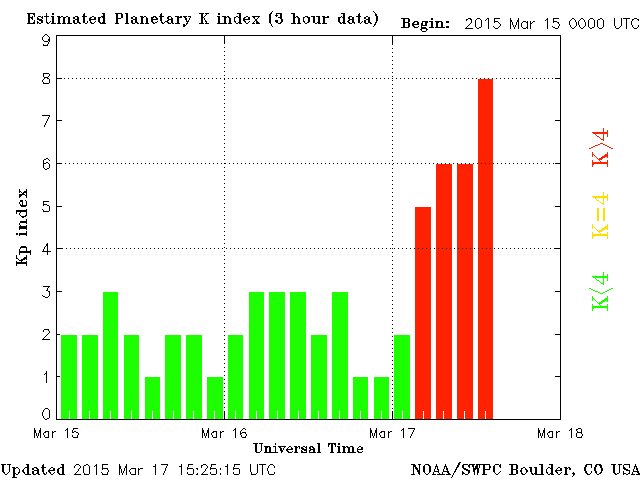 Such a storm last occurred in 1859, and is known as The Carrington Event. In that event, a CME was so powerful that it raced from the Sun to the Earth — a 90-million-mile journey — in just 18 hours.
Research published in 2014 showed that the Earth narrowly missed a similar event in 2012, but the burst of solar energy was directed far enough away from Earth's magnetic field that disaster was averted.